This thread was originally posted on SMC.
Hi everybody,
I finally finished that design for in-line drilling that I started some time ago. I have a project for a good friend that required drilling 206 1" holes in 3/4" ply. I'm making a Christmas Star for his Holiday light display.
The design for the indexer has a 48" x 1.375" x .375" piece of UHMW that is drilled for the indexing pin, and clamps to the guide ridge of the guide rail. After seeing the side mounting brackets for the SME's that Dino came up with, I might change the indexer to mount that way to the rail.
The spring loaded index pin mounts to the side of the SRK and straddles the guide ridge and the indexer. The indexer piece with the holes can be flipped over to provide a second set of holes at a different spacing. The most difficult part of making the indexer is getting the holes uniformly spaced at the correct distance. I totally ruined one side of the indexer with failed attempts until I finally got the distance correct. A tiny error gets greatly magnified when added with each hole spaced at 1" intervals over 45". Once I finally got the distance correct for 2" spacing (since that was what I really needed), not trusting that it was correct, I marked the indexer off in 2" increments, just to keep an eye on the progress. The next time I think I'll buy a predrilled jig for doing shelf pins and use that to get the spacing uniform.
Here is the setup in use. Note the white stuff around the router is a failed attempt to corral the copious amount of shavings that drilling a 1" hole makes.
The
Blog
write-up gives some idea of the methods I developed for using the jig efficiently.

Ken Lustgarten Posted:
This is a great idea! When I sold my Festool saw and rails I kept one rail. It was a rail with holes drilled in it. The router mounts onto a special bese that rides along the rail and has a spring loaded pin that
indexes in the holes. It is great for shelf pin holes or any time you need a long straight line of holes. There are a couple of things from that setup that could be incorporated into your jig. First the holes
are not round they are oval (this could be done by drilling 2 holes side by side). The oval is oriented with the long direcrion across the rail. The short side of the oval is the same size as the pin so that
there is no slop, it indexes perfectly. With this setup even if the alignment of the pin is off just a hair it will still fall in the hole. Second the holes have a slight bevel so that the pin automatically
falls in the hole as the router is pulled.
Dik Harrison Replied:
Thanks Ken,
I don't have any problem with the pin falling into the hole. I ground a little off the edge of the pin to round it over a bit. It drops readily into the hole. The hole is just a few thousandths over size (one
lettered bit size over a tight fit), that helps too. There is always a little slop in any system, so you always need to "feel" that the SRK is "centered" before starting to drill.
Ken Lustgarten Replied:
One more thought on this. I noticed you said that it was difficult to get the holes spaced perfectly on the jig. If the spacing will work for you a piece of peg board could serve as a template for creating the
jig.
Tom WiZer Poster:
I just wanted to say that I think this is brilliant. I'm not sure I fully understand it, but I'm still impressed. The ingenuity of this forum never ceases to amaze me.
Dik Harrison Replied:
Thanks Ken and Tom,
I think someone had suggested that earlier, but I had completely forgotten. I'll check that out once my order of 3/8" UHMW get here.
I'll see if I can't put together a more in depth explanation once I have time and have done a little tweaking. I want to see if I can come up with a way to mount the indexer on the edge of the rail, rather than on the guide ridge.
Jim Mumford Posted:
Dik,
This is an excellent jig! I like the spring-pin mechanism you built with off the shelf parts....something I would definitely think about using in future projects. Nice work!
-Jim
Mike Goetzke Posted:
Dik - nice work. From computer to hardware!
Do you think you could make a template and produce dovetails? Or is the system too bulky to control?
Mike
Jason Perrott Posted:
Great job on the design Dik!
I have a way I layout adjustable shelving holes in cabinetry, using a shelving standard which has slots every 1/2 inch. So you can space at any 1/2 inch interval, I usually space holes 1 inch apart.
This could be screwed down to the rail with a few small machine screws making it easily removed. You could change your round pin design to a "tongue" which would work with the slots in the standard.
http://www.amazon.com/72IN-BRS-ADJ-SHELF-STANDARD/dp/B00004YK9B/ref=sr_1_4?ie=UTF8&s=electronics&qid=1225293254&sr=8-4
Your sketchup renderings convey so well that "a picture is worth a thousand words", thanks again!
Jason
Dik Harrison Replied:


Thanks Jim, I actually had everything on hand but the spring, I ordered it from
SmallParts.com
. They have a great selection and I was able to get exactly the size and strength I needed.
Thanks Mike, I'll have to look into that, I need a dovetail jig (other than the sliding dovetail jig I built earlier). There might be too much side play in the SRK moving perpendicular to the rail for dove tails.
I'll give it some thought.
Thanks Jason, now why didn't I think of that? I have some shelf standards, I'll give it a try.
I thought that using transparent materials would help explain much better than words, how I made the pin, etc.
Okay, I've posted some more details of the
Indexer
.
Colin Wollerman Posted:
Bringin back the indexer thread
Dik, Sorry,I meant to reply to this sooner but I think it is worth revisiting anyway...
I have been thing about this application for a while.
Nice work BTW.
The weak link seems to be using the plunge router as a drill.
I have been looking for a small, light weight mag drill that could be modified for use on the system but they are all 25-30lbs and cost a thousand bux!
Short of building something I am at a dead end.
I was goiung to ba$te*dize a small DW router but there is still the RPM issue and the chuck...
I will be happy to take it to the machine shop if anyone has any good ideas.
C
Tom WiZer Poster:


Me too Dik, apologies. I have had your blog open on another screen and only just got round to reading it. Thank you very much for adding extra detail about the indexer. It truly is ingenious. I'm seriously
impressed.
Dik Harrison Replied:
Colin and Tom,
Thank you, for your responses.
Colin,
The weak link seems to be using the plunge router as a drill.
I don't understand why it is a weak link. I tried drilling with a Forstner bit in an device that lets the drill kind of be like a drill press. Even with a 1/2" drill, it was way too slow. the router with the 1" plunge bit cut the holes about five times faster, easier, and with a more consistent outcome. Admittedly, there are a limited number of sizes of plunge bits as compared to drill bits, but I think that there are enough sizes to meet most if not all of my needs.
I have been looking for a small, light weight mag drill that could be modified for use on the system but they are all 25-30lbs and cost a thousand bux!
Am I being dense, I don't understand what you are referring to.
Colin Wollerman Replied:
Hi Dik,
"I don't understand why it is a weak link"
This is what is great about the forum...Maybe it is
My
plunge router that is the weak link. I have the PC combo set and don't seem to have much control on the plunge and have a hard time seeing what I am doing.
Could be operator error too
I was thinking of a slim down version of this "mag drill"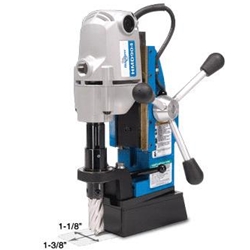 You are way ahead of me. You actually built something that works good
I am still dreamin
"EZ drill press hmmm"
C
Dik Harrison Replied:
Thanks, Colin, now I understand.
I have two PC Plunge/Fixed base kits, one I bought a couple of years ago and an older one that I inherited from my Dad. I actually like the plunge action and control of the older plunge better, so that is the one I used for this job. I'm contemplating trying a WoodRat Plunge Bar on the newer router to see if it helps.
Dean Sabo Posted:
great idea!
Would this be the best way to drill holes for bench dogs and similar
clamps so that I could make a top similar to an MFT?...that would help
eliminate dust and increase options for hold downs and clamping?
Colin Wollerman Replied:
Dik,
WoodRat, thats a solution. I have never used one but the pics I have seen are promising.
For your indexer it seems the plunge router is not a weak link at all.
In all honesty I have not done too much plunge work. Maybe I just need to get a little more comfortable with it.
I still want to explore some type of rail or SRK mounted drill press beyond the plunge base. I like the challange
Thanks
C
Dik Harrison Replied:
Colin,
With something like the mag drill or a "drill press", where you pull a
handle to lower the bit, it might cause the SRK, et.al. to raise as
well as the bit to go down. With the plunge router, you are providing
force down directly to the bit.
Colin Wollerman Replied:
Dik,
This is a possibility I considered too. I think it could be over come
by keeping a firm hand on the drill however it is a very good point.
Maybe I am coming at this with tunnel vision. Lets start over;
I want to (objective) be able to square up, align/repeat and control
drilling operations on stock to big for a drill press or if no drill
press is available.
Solutions;
Router as drill/boring tool
Pro
-
Good lateral control
Safe, firm plunge action
EZ interface to rail system
Good depth of plunge control/repeatability
Con
Limited depth of plunge
Limited drill bit options
Limited viewing of operation. Cross hair set up required
limited RPM adjustment
Router is looking pretty good. Maybe it would be EZ'r to address the con list than make a new tool.
I bet I could cobble up a chuck-collet widget of sorts and get a set of short bits or cut some down...hmmm
c
Andres Cuevas Posted:
Dik, I have the Woodrat plunge bar installed on my dewalt router. My opinion is: go for it
BTW: This jig is a great idea!!!
Dik Harrison Replied:
Thanks for the recommendation Andres.
Wouldn't you know it, I checked their site, and my old PC routers are
not supported. I guess I'll have to start thinking about getting
another router.
Colin Wollerman Replied:
Hmm,
Might have to do a little copy-cat'n of my own
Don Bergren Posted:
Fantastic work Dik!
Dik Harrison Replied:
If any one is interested, I completed the Christmas Star for my friend.
I have posted it on my
blog
.