This thread was originally posted on SMC.
I got tired of getting down so I could set the blade depth before using my PBB. I came up with this jig that lets me set the height quickly to within an 1/8" of the material thickness. I hot-glued these blocks to the auxiliary fence on my Biesemeyer fence. Now it only takes seconds to set the blade height and lock it in. The markings indicate the material thickness. I just loosen the depth locking lever, set the Smart Base flat on the top surface over the appropriate block, and with the teeth touching the block, lock in the setting.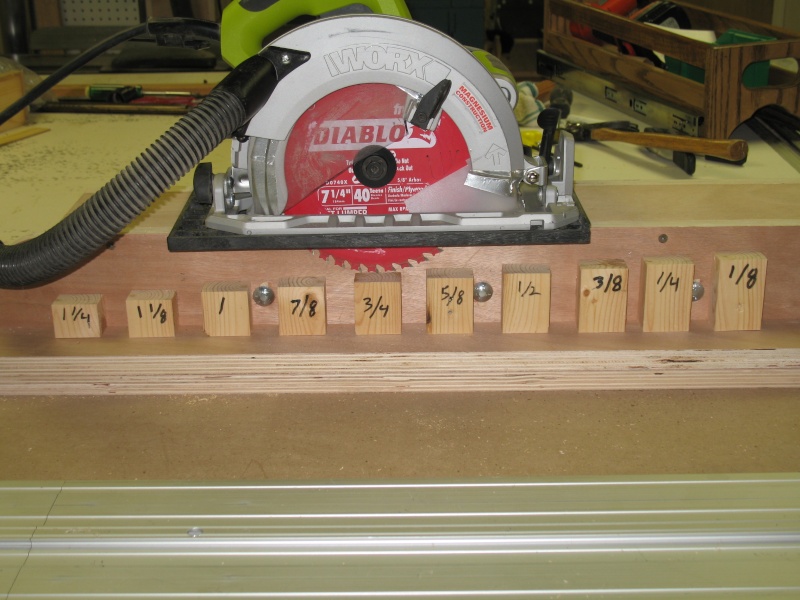 Burt Wadell Posted:
Dik,
Another illustration of the beauty of simplicity. I'll be making one of these.
This is a super useful addition.
Burt
Dan Regan Posted:
Indeed, nice and simple, I may just make a copy of that for myself as well. Nice work!
Joseph N. Myers Posted:
Dik,
Really nice and functional! Does this mean that you are going to have other blocks to set the height of the Guide Rail to go along with the corresponding depth of cut? (Or am I missing something!)
Regards, Joe
Randal Stevenson Posted:
On one of my saws, it was mainly used for 3/4" material. I marked the gaurd with a permanant marker, when set to the right depth, for a quick reference line (as the other setting used, just cut through a 2x).
Dik Harrison Replied:
Another idea
Joe, I just converted my B-200 to a B-300, so I can raise the rail higher than this saw can cut, without adjusting the bridge. So, I have more or less permanently mounted the bridge. I moved it back further from the table edge so I can set up for M/T. I think it as about 7-8" back from the edge now.
I got to thinking last night about the depth jig, and realized that since it is on my auxiliary fence, it would not always be available (I store the fence in a rack I put along one side of the PBB). So I thought of putting it on a piece of ply or MDF that I can mount on the SME on the table edge in front of the rail. All I have to do then is set the saw on the table top over the correct block and... The top of the base of the jig will be indexed to the top of the table so that the depth will be correct.
With this setup, I can move the jig to where ever it would work best given how the PBB is configured. I guess I could also fix it to mount back on the auxiliary fence. I did a quick drawing of my idea.
Mark Kosmowski Posted:
Very nice!