Mark,
It is simple. You use either of these two buttons, depending on where the pictures are to be hosted. Clicking either button will open a pop-up window, clicking the button a second time will close that pop-up window.
The right button is used when you want to post a picture that is already hosted elsewhere (i.e. in a Picasa Web Album). Clicking it gives you this pop-up window. You simply enter or paste the URL in the text box and click the "Ok" button.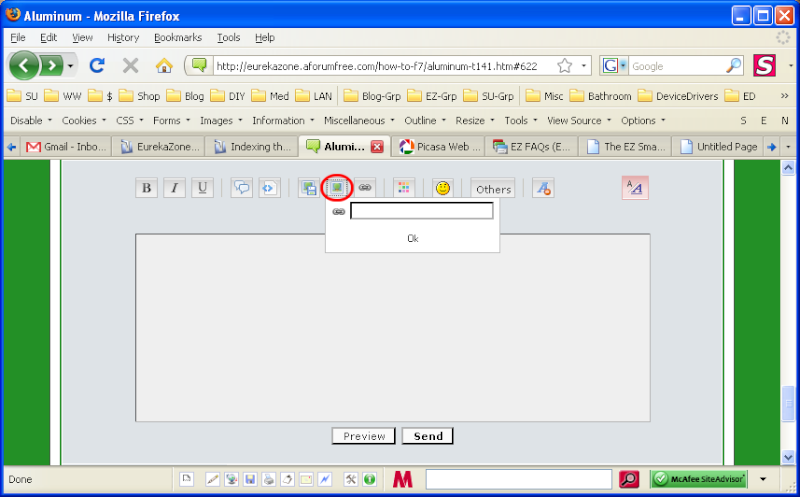 The left button is used when you want the picture hosted by the host that is used by the forum. Clicking it gives you this pop-up window.
You can browse for a picture that is on your machine (as is selected in this picture), or enter the URL of a picture that is located on the Internet. Clicking the "Browse" button gives you a "File Upload" window from which you can select your picture.
Once you have selected your picture file and clicked the "Open" button, click the "Host It" button, and the pop-up window changes to this.
There are three choices for how you want the picture displayed. The top will select the code to display a thumbnail of the picture, that when clicked will open the picture in another browser window.

The middle button will select the code for displaying the picture in your post.
And the bottom button will select the code that will display a link to the picture on the hosting site.
https://i.servimg.com/u/f83/12/63/07/52/ez-log10.jpg
When you click the "Copy" button next to your choice, it highlights the code for implementing that choice. You simply copy (Ctrl-C or right click/Copy) the code into the clipboard and paste it into the post where you want it to appear.
Clicking the "Preview" button will allow you to preview what the post is going to look like before you send it.

_________________
Have fun...

Dik