Dik Harrison Replied:
How is this?
I was a little under the weather this weekend, so I had a problem wrapping my hear around all of your suggestions, but feeling better now and I think the attached might be what is being suggested.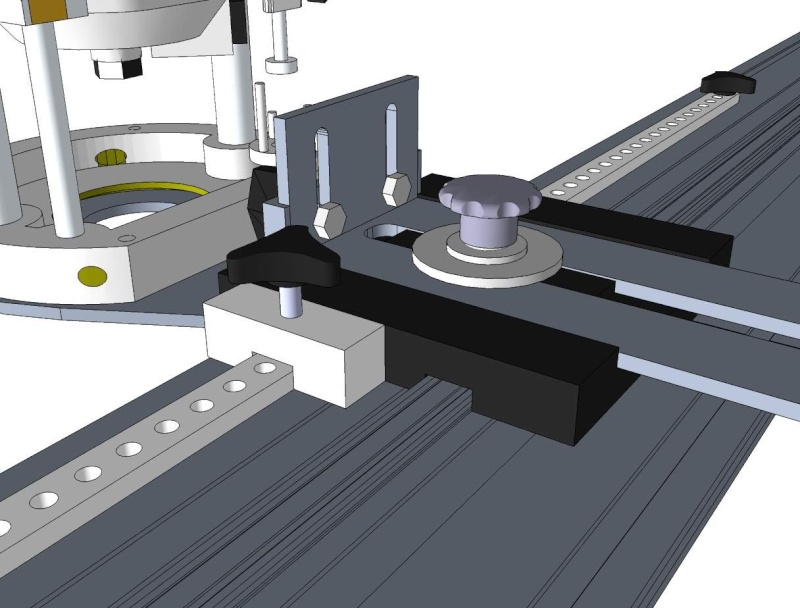 You lift the knob (which is spring loaded to hold it in the down/engaged position) to move the SRK to the next index and release the knob. The shaft would have a chamfer on the end to promote alignment.
Questions: Are there bar stock available with preexisting holes that might fit the bill here? Are spring loaded plungers available off the shelf that might be used here?
Jeff Caskie Replied:
That is close to what I had in mind... but the main difference was I was envisioning the limit stop spanning both the center of the rail and the indexed bar. (I am not sure if the spring loaded pin for the indexing would be better suited for the limit stop or the SRK itself).
What I had in mind is that the dual limit stops would keep the indexed template/bar in one place while you move the SRK to drill the holes. The template would be smaller than the rails (in most cases).. say 3 ft in length. If you needed additional holes, you would then loosen the knobs on the limit stops... slide it down the rail using a previously drilled hole to set it, then tighten the limit stop knobs again. Then continue drilling your holes
Here is a very crude drawing...
Randal Stevenson Replied:


If you take your drawing, and Dino's rail (two slots on the bar side of the rail), then you could use a connector extrusion with this idea.
Dik Harrison Replied:
Now it makes sense...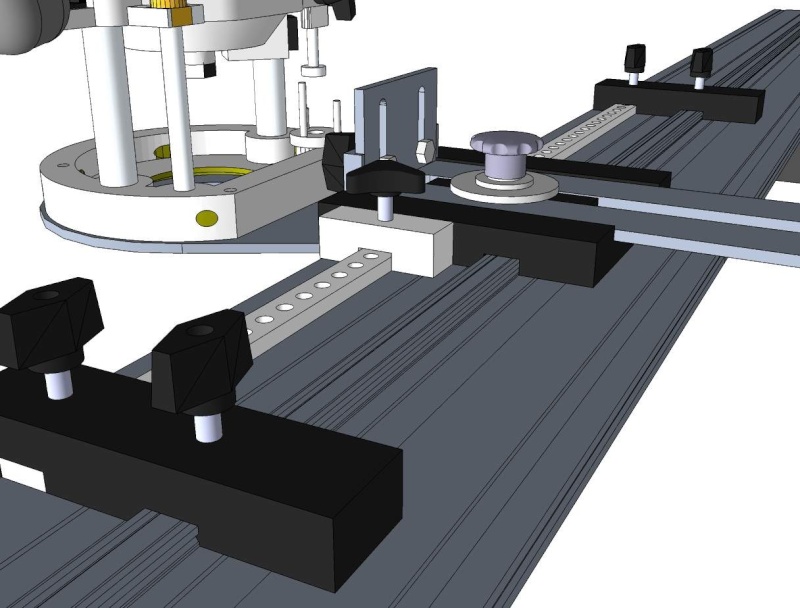 Jeff Caskie Replied:


Yes, that is it... yours is much prettier though! As mentioned by somebody else... you could use a long connector extrusion for this purpose. This would be in line w/ the concept of parts for multiple purposes. The extension connector used by the new cabinetmaker would do nicely IMO. Just have to drill a bunch of properly spaced holes in it.
The one possible change I can think of is drilling a hole in the SRK for the spring index pin. It would work either way.. but having it in the SRK would be one less part to worry about.. and you wouldn't have to worry about the SRK moving on you unintentionally. With the current picture, you would have to either be very careful... or have some way of keeping the SRK next to the single limit stop. Another limit stop may complicate it unnecessarily...
Dik Harrison Replied:
Actually I figured on fastening it to the side of the SRK. I found a supplier of spring loaded plungers, but the max thickness they could mount to is 1/8", so if that were used, it would have to be mounted to the side of the SRK.
Burt Wadell Replied:
Dik,
These setups remind me of some that Dino and I built. Dino used the indexing pen. I just rounded the end of a bolt. Both were based on drilling holes in the center of a EZ rail. The holes didn't interfere with the normal use of a ez rail. Basically, these were limited to a set spacing distance. The changable rod would increase flexability.
Burt
Dik Harrison Replied:
They are actually a manufacturer, so a distributer would probably have to be located.
http://www.southco.com/
Most of the credit for the art work goes to SketchUp, the most intuitive 3D-CAD program I have ever used. I have to see things to think in detail about them, and SketchUp lets me make detailed drawings of my ideas/projects so I can find things I didn't consider or missed. For instance, in one iteration of this concept, I had knobs connecting the unit to the rail that would have prevented the rail from coming down flat on the work piece. But once I popped a piece of plywood under the rail, the interference was obvious. I love working with SketchUp. It also lets me publish neat art work of my ideas so that others can see them. After all, a picture is worth a thousand words...
Jeff Caskie Replied:


Hey... I used to work for them back in college! Will that get us a discount?!?
Dik Harrison Replied:
They will actually send samples, but I haven't tried that yet.
Peter West Replied:
How about these
http://knobsource.com/
Michael Schwartz Replied:
Looks like they have some fun stuff.
Dik Harrison Replied:
Back around again...


I've kind of come back around to the original idea. In discussing this with others, I realized that using the second dado in the SRK is limiting in two ways. First, the template has to be no wider nor deeper than the dado. This means having to mill something to fit. Second, given the relative narrow width of the dado, only one set of holes could be drilled in the template.
Not using the second dado in the SRK, you can have a wider template with two sets of holes with two different spacings. All you have to do is flip the template. You could even put a scale (self sticking measuring tape?) between the two sets of holes to make using the template for multiples of the fixed spacing (say 1" by using every other 1/2" spacing hole). Below is an example:
http://picasaweb.google.com/DikHarrison/EZSmartDesigns
Mike Goetzke Repiled:
Dik - I like this indexing idea. I know your method is more accurate but what if you used a "story" block and a rail clamps. It's hard to explain w/o the sketch-up skills but: 1) what if you lined up and bored the first hole with rail stop clamps against the SRK. 2) loosen the stop block (the one in the direction you are progressing in) and slide it over. 3) drop the spacer / "story" block between the SRK and stop clamp. 3) slide the stop clamp against the spacer and lock it down. 4) loosen the other rail stop block. 5) remove the spacer slide the SRK to the new stop block location...
O.K. your way is better - this is too many steps
!
Mike
Dik Harrison Replied:
Just what I need...
Mike,
I know either you or someone else has suggested this before, but it finally clicked. This idea is what I have been looking for to drill the first template. Once you have a short template with 5 or 6 holes, you can use it to drill longer templates and/or more templates with multiples of the original spacing.
Thanks...
Bruce Benjamin Replied:
Mike, if I understand your description correctly, this is the same idea I've posted in a couple of other threads recently. While I like Dik's idea it's not likely that I'll be making his jig and templates anytime soon. I suspect it's a lot easier to make the drawings than the hardware, in other words. But your idea, (mine first!
) will work perfectly and the only thing you'll have to make is a stop block that matches your spacing. Really simple and once you get going it wouldn't take much time at all to change. I think it's biggest strengths are, assuming you already have stops and the SRK, it will
cost you nothing except a small scrap of wood for the spacer and you don't need any special template.
The template idea is a great one but I think it's more for someone who likes to tinker with inventions. I've built a lot of jigs but for some things if I can buy it it's probably going to be better. I could probably build the SRK but the EZ version is better. If Dino makes something similar to what Dik has drawn I think it would sell. But how much would something like that cost? How much are the templates? A block of MDF that I have under my workbench is free.
Bruce
Dik Harrison Replied:
Guilty a charged, but...
Bruce,
So far, what I have built, has not been difficult to build and it will be invaluable to me. I'm designing this with an up coming project I have. I'm going to renovate our pantry with adjustable shelves, and given the restraints I'm working under, I'm going to have to drill thousands of 1/8" holes spaced 1/2" apart, in two rows about 6" apart. I'm using a European concept that uses a "U" shaped wire that a narrow groove in the edge of the shelf slides over. Therefore, having to move a spacer block between each pair of holes seems to be a little too time consuming. This way, I just set the pin, drill, extend the SRK, drill, lift pin, slide SRK, ad infinitum...
Greg Pauba Replied:
What you need in your design is a lever by your router handle that pivots to lift your spring loaded pin so that you can slide the router to the next hole!
And thanks for the sketchup components -- I am amazed with your drawings.
Take Care,
Greg
Bruce Benjamin Replied:


Dik, I can see where a faster method than the spacer block would be of value if you have a lot to do. I wasn't saying that it wouldn't be useful. I was saying that I don't see myself needing that and that the jig you are drawing would be more trouble than it would be worth to me. You say what you have built has not been difficult but have you built
the spacer jig with the plunger pin and the template that you posted last in your drawing? Somehow I think getting that one right will be more difficult than what you've made so far. Not impossible at all but more trouble than it would be worth to
me
.
I hope you don't think I'm criticizing you at all. I admire your inventive skills and the quality of your drawings. However, for my uses some of it is over-engineered. Definitely not for others but for me that spacer jig is just a bit more than I'd want or need to build for my needs right now. I realize that you aren't designing it for me though.
Bruce
Mike Goetzke Repiled:
You may have posted it first but I thought of it first
(just kidding great minds think alike
).
Bruce Benjamin Replied:


Oh yeah?! I think I brought this up in a thread either earlier this year or maybe last year. The discussion was about shelf pin hole jigs I think and I believe the idea for the the EZ shelf pin guide was deemed unnecessary because, "why build an EZ one when the other shelf pin jigs commercially available are so cheap?" Or something to that effect anyway... Uh, ok. Anyway, I've been shot down by the best and way before you!
I think even Dino and Burt gave it a thumbs down.
Bruce
P.S. I could have the events very wrong but that's the way I remember it and that's the story I'm sticking with!
Dik Harrison Replied:
I didn't take offense. I just wanted to explain my situation. I have the indexing pin part built, just waiting on the spring I need. The suggestion about using the spacer block finally made it through my thick skull and I saw that it is just what I need to make a uniformly spaced template. I'll start on that soon as I can.
That is kind of where I started, I'll give it some consideration. I tend to be over cautious, I would probably tighten the SRK for each hole, so as not to move it accidentally. That is what lead me to using a knob to lift the pin.