This thread was originally posted on SMC by Trent Flemming. It is here with his permission.
Hello All,
I just couldn't pass up the $80.00 Biesemeyer fence on closeout at Lowes. Thanks to Lou a creeker member for posting the SKU number (237671). I called both my nearby Lowes and learned that one store still has 3 on hand and the other store still had one left. If anybody wants me to pick one up for them just send me a PM. The shipping will probably cost nearly as much as the fence. The box is 18.5 x 6 x 69 and I guess it wieghs about 50 - 60 lbs. My zip code is 75650 so you can calculate shipping and get an idea. The fence with tax is $86.60. Here are some pictures of it mounted to my table. The distance from the inside of the
saw track to the fence is 49".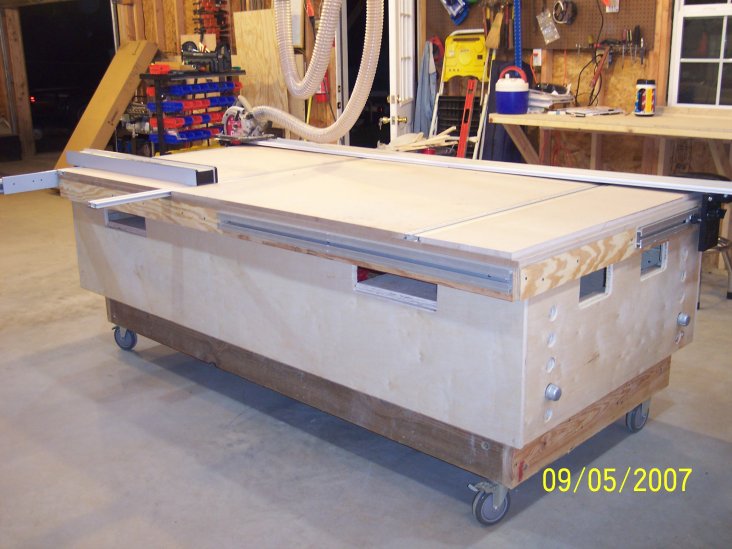 You can see the box for the fence in the background.
Trent
Randal Stevenson Posted:
It looks like you made it height adjustable, is it?
What are all the square holes for (since I only see three sides, not sure if the fourth is open or has doors for storage).
Thanks
Trent Fleming Replied:
Hi Randal,
Yes the table is hieght adjustable. The square holes allow me to slip items like tape measure, level, speed square under the table. I may enlarge the holes at a later time. I am still figuring out what works best for me. The side not visible is identical to the other sides. You can see more about the table here:
http://eurekazone.aforumfree.com/eurekazone-tools-f1/trent-flemming-introduction-and-pbb-pictures-t156.htm#657
Trent
Mike Goetzke Posted:
Nice! I picked one up for $50 but am afraid if I applied it to my 2'x4' PBB it would be be on my toes
.
Looks like you modified the Biese angle iron???? Also, Is there a chance you can run the blade into the fence tube or not?
Very nice set-up!
Mike
Dik Harrison Posted:
Great PBB(B)
Good looking setup Trent, I too couldn't pass up the Biesemeyer at Lowe's. I actually got it to replace the Excalibur fence on my TS, but liked it so much that I'm saving it for my PBB(B?). I'm still awaiting parts and have a project or two I need to get done before I can jump in on building mine. Keep us posted on any improvements, we always can use fresh ideas.
Trent Fleming Replied:


I did use an angle grinder to cut the Biese angle iron rail mount. I can now move the Ez Smart saw track as much as 2 feet to the right without fear of the saw blade striking the any part of the biese. The biese rail and tube are a full 3/4 inches below the top of the SME. I would have to cut completely through the SME before striking the rail.
Thanks for the kind reponses.
Trent
Bruce Benjamin Posted:
Dang it! Now you got me thinking about spending money I don't have for a deal I can't pass up!
My local Redding, Ca. Lowes has none in stock but will gladly order one for me for only $400. They told me that the Lowes in Chico, Ca., about 1 1/4 hours each way south of me has two in stock and they are $80. They said I would have to talk the Redding Lowes into doing a transfer and they didn't know if they would charge me the $80 or $400. Gas would cost me $45 or $50 to get there and back if the Redding Lowes won't give me the deal. PITA for something I don't really need, shouldn't spend the money on, but really want for a custom PBB.
I guess I'm off to Lowes to talk to a manager...
Bruce
Peter West Posted:
Forgive me a naive question -
We don't have this fence in the UK. What makes it so special??
Seumas McCumbie Posted:
Bill Biesemeyer


Designed and marketed this as an after market fence to replace the terrible fences that were boxed with the table saws well over twenty years ago. macduff recalls that he did patent the design but unknown to others the patent lapsed, The others not knowning this fact never cloned it until just a few years ago. Think Delta bought Bill out, now both owned by B/D, others have the right to differ from macduff's rendition of the facts. slainte mhath macduff
David Davies Posted:
Can you please post some close up shots of how the bridge and beisemeyer connect. I would like my fence to be closer to the EZ rail but am not sure how to do it.
thanks,
Dave
Burt Wadell Posted:
Trent,
Very nice setup. Are you getting any deflection with the Beisemeyer?
One other thing you might consider is when the fence is set for a rip narrower than the "t" that is made on the fence. There is only about 1/2" clearnance.
Peter,
Most people in the USA think of the Beisemeyer as the best fence going. Basically is all steel construction and a tough piece of machinery.
Others prefer the Delta unifence. It is all aluminum and has some nice features not included on the Beisemeyer.
Both Fences are now the property of Delta and therefore, Black and decker. I recently heard someone refer to the Beisemeyer as a Heavy duty pickup truck and the Delta as a sports car.
Burt
Michael Schwartz Posted:
I have worked with both Beisemeyer and Unifences. Overall I prefer the Beisemeyer. However the extrusion of the unifence is great for use with jigs, and has alot of other uses I don't fully understand.
As far as a fence on a PBB, I would probably opt for a Unifence if I had a choice, but by all means, a Beisemeyer for 80 bucks is an unbelievable deal. At that price they are cheaper than the cheapest tablesaws. (Thank you lowes
)
The one thing I would do with a Beisemeyer fence would be to add an auxilary fence in the shape of an L to get under the saw base. Really easy to make out of scrap wood.
I have an idea for making a traveler for a repeater to use it to set the SME rip fences parallel eliminating the capacity issue of using the SRK for this purpose. The biggest issue I have with the SME fences are setting them parallel without a hassle. I think that they are capable though of a matched performance to a TS fence as far as productivity.
Peter West Replied:
Thanks guys.
So let me see if I understand the qualities of this fence.
- The fence is made from Steel (or Ali in the case of the Unifence.)
- It has the facility to add a sub fence for thin material or thin cuts
- I assume it locks tight and does not deflect - from what I understand without a back rail
Is that it, or am I missing something else?
Bruce Benjamin Replied:
You got it pretty straight, Peter. I currently have the General International cloned version of the Beisemeyer Fence on my TS. It is possible to make it deflect but you have to push harder on it than I do when using it properly. Burt says that he's had some deflection with his but I'm not sure I understand how completely other than the same way I can get mine to deflect on my TS if I push on it too hard.
What I like so much about this fence is that when you clamp it down with the lever it aligns itself perfectly straight every single time. Combine that with the self-stick tape measure that comes with it for the rail and it's a very precise tool. Bolt all of that onto the right design of a PBB and it's a pretty cool setup.
It's really such a simple design that I'm certain that if I spent some time with the welding trial and error I could duplicate it for the cost of some materials. I have a pretty nice MIG welder but I don't use it often and I'm not really good with it.
Bruce
Randal Stevenson Replied:
Burts deflection is with the UNIFENCE. Not the Bies. My understanding is it is where the aluminum mounts to the handle, at the rails. Seems to be the weak point and doesn't normally sit there on a tablesaw.
Burt Wadell Replied:
This comparison of the two fences could go on for a while.
As Randal stated, the deflection in a unifence is somewhere in the head. I haven't taken time to totally research but it is no more than it would be on a table saw. Again, the problem is only after you reach a length of more than 5'.
The head on the unifence is totally different than on a beisemeyer. It allows for much more adjustment. Bolts instead of welds, the fence can be flipped and pulled back and forth and adjusted up or down. With the weaknesses of the unifence, I still prefer it. The one I have on the EZ uni has the fence length cut back to about 28" and performs flawlessly.
And yes, I also have a Beisemeyer in the Shop. It is probably going on a power bench too. When? What style? To do what????
Burt