This thread was originally posted on SMC by . It is here with his permission.
Here is an idea I have for adding a miter fence to our table.
This only works if you have 2 lengths of SME on the table parallel to the rail - which our table does.
It is simply two short lengths of connector extrusion which have a tightening knob and a pin in them. We then use 2 angle brackets with a hole for the pin in one face and a hole for a knob in the other. This allows us to mount the brackets on the connectors using the locating pins - but the angle brackets are free to rotate. The knob on the other face of the angle brackets are attached to short lengths of connector which will slide freely in a length of back to back extrusion (until they are tightened).
To adjust the angle, the left connector is positioned appropriately in the SME and locked in place and the back to back (fence) is also locked in place on the left angle bracket only. The rear connector can now slide in the right hand SME and the bracket will swivel on the pin and slide along the back to back until the correct angle is achieved, then the connector and back to back knobs are tightened to lock it in place.
This is a simple setup and easily made, and although I have not yet tried it it should work well.
The next step is to look at possible ways of graduating it to set angles without doing it with an external measuring device (although that should be no hardship).
If anyone has any comments or suggestions on improving the setup, please let me know.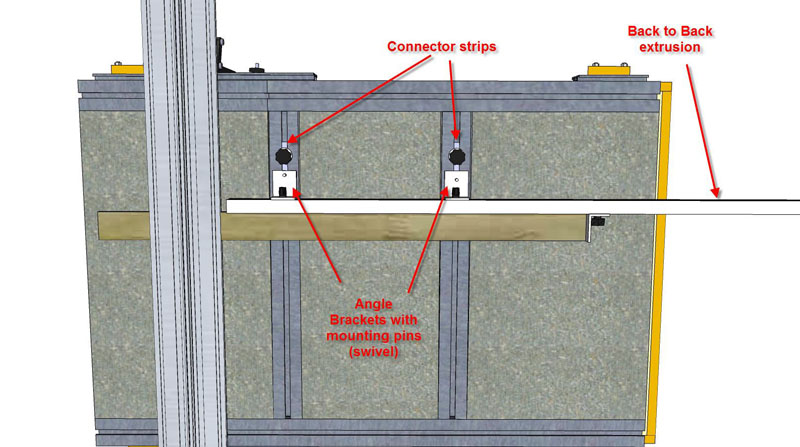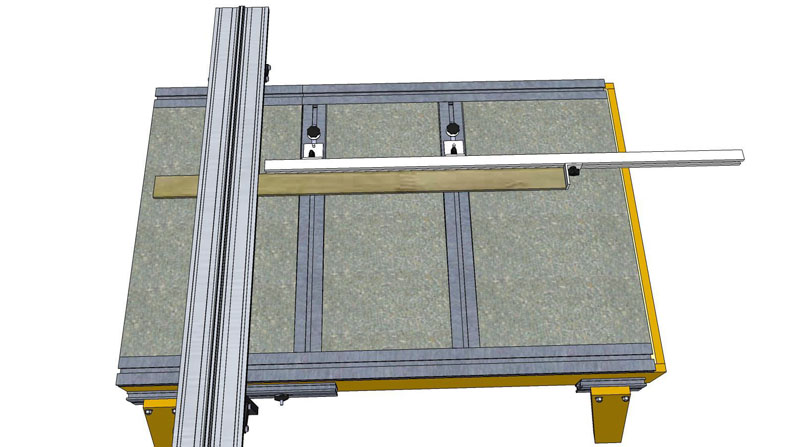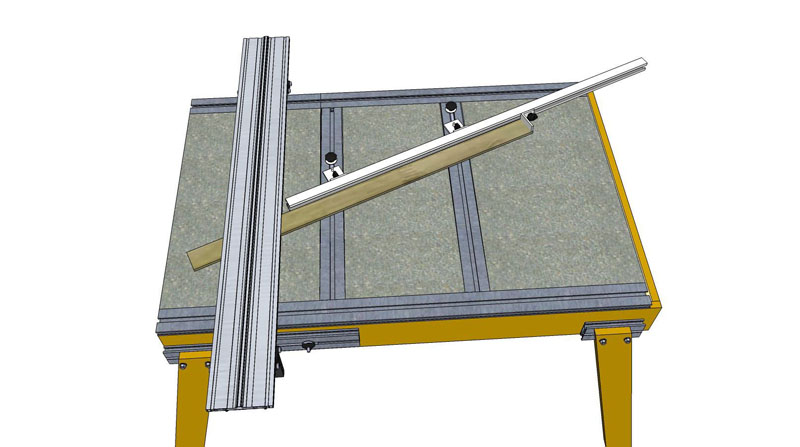 Burt Wadell Posted:
Peter,
Don't mean to sound like - been there - done that - but this does work well. I've also found that a piece of 1/4" thick bar stock about 2" wide with a long slot - 5/16" wide - in it works well. Use the same connector and knobs. Eliminates the angle and simplifies setup. I prefer the bar stock.
Burt
Peter West Replied:
Thanks Burt
I thought about aluminium bar stock and agree it would work well enough, but using that raised various issues:
- a slot would have to be milled in it, and not everyone has the facilities to do that, or would not feel comfortable doing it, particularly if they wanted a long fence.
- over here, aluminium bar stock is not readily available locally, and the length needed to cut any reasonable length material (say over 3') is very expensive to buy and have delivered.
- using bar stock would require an additional operation to mount a moveable stop
- the bar stock would not really have many other uses than for the miter gauge.
The advantages of using the B2B are:
- it's cheaper than bar stock (over here) and is readily available from an EZ stockist
- it has a higher face than say 1/4" bar
- it already has the facility to take a stop
- it can be used for other things when not needed as a miter fence
My intention is to offer this as a fence kit which will be an optional accessory for the cabinet makers table - nothing for the customer to do except bolt it on to the SME's on their table.
Randal Stevenson Posted:
How about using a connector extrusion with a piece of UHMW, instead of the angle clamp on end? That way, you could leave a screw hole in it, if you needed longer (screw under piece so it doesn't get in the way).
One really stupid question, do you have a quick release of some kind, to remove your SME, that you can slide the clamps on the other SME's?
Peter West Replied:


One really stupid question, do you have a quick release of some kind, to remove your SME, that you can slide the clamps on the other SME's?
not so stupid really - it will be more obvious in the video, but the rear sme is in 2 parts, it is split just to the right of the rail. One of the two parts is removeable so that the sacrificial tops can be removed and replaced with others with jigs etc, so to place the miter fence the removeable back sme is removed.
The none removeable part is the piece under the rail.
Burt Wadell Replied:
Peter,
I've been using the main aliminum piece from a adjustable Dry Wall square that is available at Lowes. Cost - $19.95. Half - about 2' of the aluminum - has a just over 5/16" slot milled half way thru it. The remainder of the thickness has a slot that is about 7/16" these are rough estimates. I have used this for miters. Also go to the solid end, carefully drill two holes in the center of it and attach a couple studs and short pieces of EZ joiner. Slide that in the SME that runs 90 degrees to your cutting rail and you have a you have a self aligning fence.
Burt
Peter West Replied:
That sounds interesting.
Is there a link to see the item. I haven't seen them over here.
Burt Wadell Replied:
Lowes.com
Search for "drywall square"
Peter West Replied:
It's Ok, I found it.
There's nothing like that over here, only fixed squares - no slot - thinner material - and they are twice the price.