Peter Quadarella Posted:
That's a serious bookcase Colin, nice work.
Colin Cotrell Replied:
Thanks Peter
It made life a lot easier have the Cabinet maker to cut the 88 shelves
I had them all done in 2 hours
Brian Giles Posted:
"I had them all done in 2 hours
"
Yesssirrrrr!!!!!!
Peter West Replied:


Nice one Colin.
Thanks.
Some work done by Adam Stone - a pro.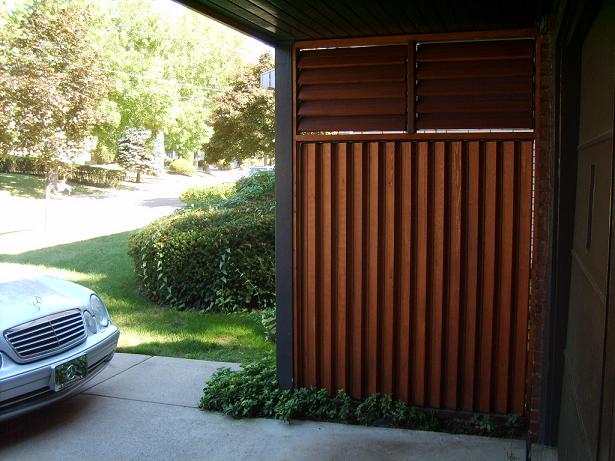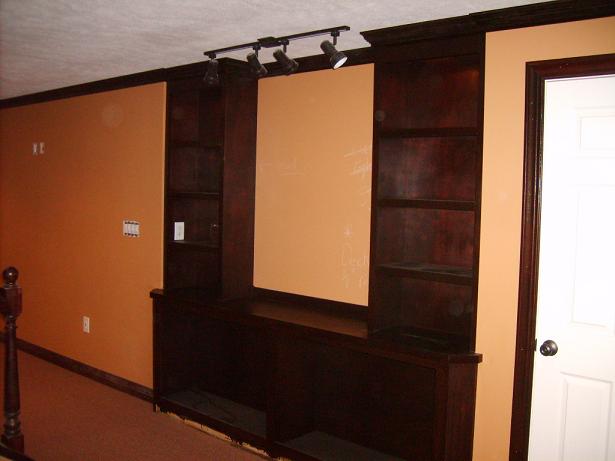 Some more of Adams work -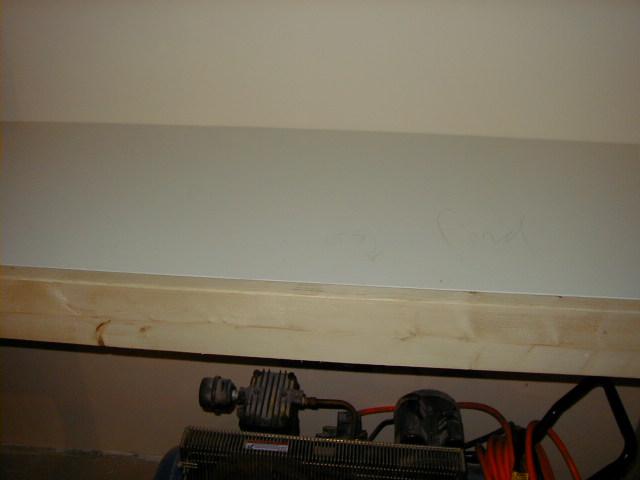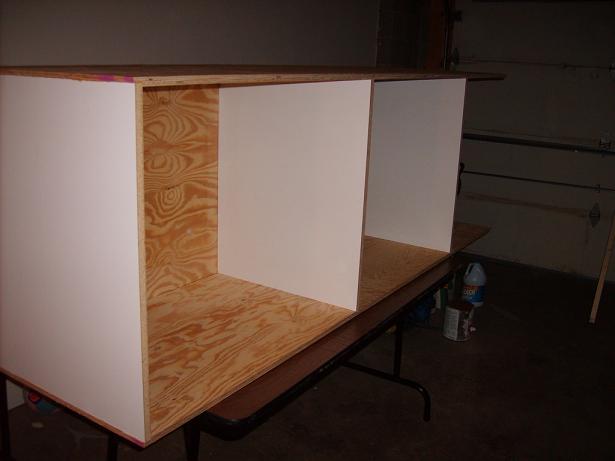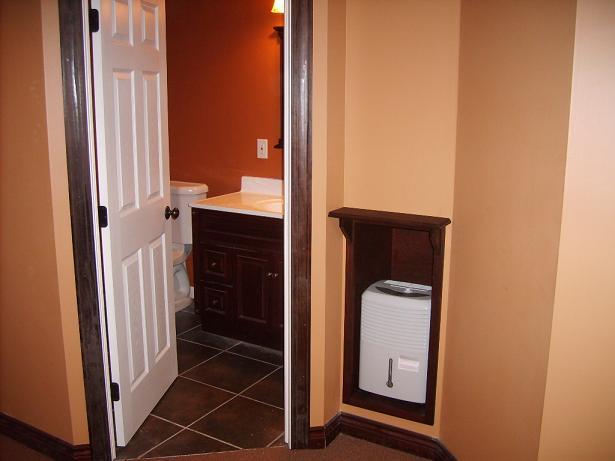 Harold Lester Posted:
My first EZ project
This
is my first project period! I made a simple cabinet to set my
Grandfather's gun case that he made when he was in school over 60 yrs.
ago. I know it is very basic but I did almost every cut with my EZ
system. I did the edge routing on router table and the face joinery is
all dowell reinforced butt joints, but the rabbets and dados were done
with my SRK. I'm using some simple projects to practice and learn so
that I can get good enough to tackle the projects I really want to do
Book shelves display cases and an entertainment center. I don't want to
jump in over my head. You know the old saying "Haste makes Waste"!! The
finish on the cabinet is blotchy on purpose to try and match the gun
case. With out my EZ system this simple project probably would have
taken me a month to complete working on it a couple of hours here and
there. But I managed to finsh it in about 4 days or two weekends. I
made a few mistakes, but nothing that a little better layout plan
wouldn't have fixed.
Peter West Replied:


Looks nice Harold, and for a first project - well done.
Bruse Benjamin Replied:
Nice work, Harold. It's quite a feeling of accomplishment when you finish a project, especially your first one! Cool!
Bruce
Adam Stone Replied:
Harold,
You're on your way. You can make anything now!
Adam
Colin Wallerman Posted:
Another Colin


Hi Guys,
Great postings and nice work!
I
am a novice woodworker building my first house. Things have been going
pretty well so far (I am dried in) and I am thinking about doing the
cabinets myself. Nothing to big or complex, shaker/country. I know I
want use a EZ guide for this and the $$$ I will save doing the work
will justify the purchase.
Q is. What Smart items do I need or not need to be ...well...smart?
I
know(think) I want the 114" rail package and the square but everything
else looks cool and usefull i.e. bridge, square handle,router guide,etc.
I could spend a ton and I am sure I will but what do I really need to get started?
Right now I have;
DeWalt porable TS
Old ShopSmith (Mostly used for drill press,mortising,turning)
Kreg pocket hole system
router table
Ect.
Thanks for considering my wordy post and would really appreciate some feed back. I promise to post work.
Cheers
Colin
Peter West Replied:


Colin,
I see you have been a SMC member for almost a year, and this is your first post.
Welcome, and whatever you decide please pop back and let us know how you get on.
"
I know(think) I want the 114" rail package and the square
"
This is a good start to building an EZ 'collection'.
The 114" rail will let you rip and crosscut up to 8ft, and the square will assist with keeping your panels square.
If you are going to start with making cabinets, then you would certainly benefit from a Smart Table for material support.
For
cabinet panels you may also find that the repeaters will give you
consistency in terms of repeating cuts of the same size for quality
cabinet construction - without the need to measure/mark every cut.
Depending
on your future work plans, the Power Bench (PBB) would give you a good
working enviroment for speedy, accurate panel cutting and also for
routing dados on your panels (using the Smart Router Kit -SRK) if
that's how you are going to assemble the cabinets.
If you are
going to use Pocket Hole assembly, then you wouldn't necessarily need
the SRK, but would find that with a bit of thought a PBB could be built
which will give you very flexible clamping options for assembly. See
here
.
I am sure others will chip in with other suggestions, but hope this helps to start with.
Joseph N. Myers Replied:
Colin,
As Peter said, welcome to the EZ forum.
You
would probably do much better getting answers starting your own Thread
on the subject (call it something like "What Do I Need"). Beside, this
Thread is kind of reserved for posting finished projects.
Dino
or one of the moderators will surely help you move it. Or your could
just copy your post to the new Thread and then delete this post. Then
Peter could copy his post. Etc.
Regards, Joe
Colin Wallerman Replied:
Thanks Joe


Thanks Joe,
I was not sure how the forum was structured.
Thank
you also Peter. I was looking at the repeaters. I do like them but
other than this project I am not sure how much I would use them. I have
played around with some tslots
www.tslots.com
and have been planning PBB of sorts...a kind of X and Y dealeo for my
router. I also have access to a machine shop and a pile of delrin.
Thank you for the link you posted. I am sure everyone is building a
bigger better table. That one looks great. Makes me want the bridge
even more. Man, I am gonna spend so much money (sigh) I like the handle
for the square but it seems a little pricy. Is this item a must? Seems
like it would be very...well...handy!
Thanks again
Colin
Mark Schiller Replied:
Colin,
I
have built many single custom cabinets & bookshelves for customers,
but am now just finishing my first set of kitchen cabinets. The boxes
are all 3/4 birch ply with end cabinets being maple ply. The face
frames are 3/4 maple and the doors will be shaker style. There are 13
ft of upper and lower cabinets. The drawers are 1/2 birch with full
extension ball bearing slides. The door hinges are Blum euro style. My
total for materials was about $1,500.
I started with an EZ rail of
100in. It took awhile before I heeded Dino's matra of cutting panels
across the 48 in width and not the 96 in length. Once I did this and
added a 12 in. extension to the 50 in. rail it is easy to cut plywood.
Also the EZ table (I let it sit in the box for a year) should have been
set up in the beginning, as it makes it easier.
I used Kreg joinery
wherever I could. In addition to the EZ rails, I use a table saw,
compound miter, jointer, router table, and orbital sander. I did
purchase from Rockler a jig for cutting the 35mm holes for the door
hinges. If you purchase it make sure to buy the bits also, as other
bits I have found do not fit it.
The only thing I underestimated
is time!!!! Like most guys here I'm pretty fastidious and take a lot of
time & care to build cabinets.
This site, as you have found out, is an invaluable source for information. Also Taunton's
Building Cabinets Like a Pro
is a good source, but watch their measurements, as I found several errors.
Good Luck and Go For It!
Mark
Colin Wallerman Replied:


Mark,
Thanks
for the insight. Your project sounds great. I would love to hear,and
see, how the door and face frames come out I recently used Blum cup
hinges and accuride sliders on a entertainment cab I built for the
wife. Good stuff. I made a quick jig and used the drill press on my
Shop Smith to drill the 35mm holes. I also used precut drawer material
from Wood Craft
http://www.woodcraft.com/family.aspx?FamilyID=5438
and was pretty happy with the results even though it was a bit costly.
It was this project that made me look into the EZ goods. I used a
classic home made guide and even though I have used this successfully
on other projects I quickly realized it's limitations on this finer,
more complex piece.
Do you use the EZ square? With handle? I know I
will be getting the rail package but have not decided on the
other...accessories. They all look cool. I think that I can live
without the repeater(s) for now as I am not doing this for a
living...yet.
I will be building or modifying my own table. Shipping of big items to Hawaii is a bit cost prohibitive.
Cheers, Colin W.
Mark Schiller Replied:


Colin,
I
do have the EZ square, but not the handle. I use it occasionally, but
usually when I get the pieces small enough to just cut with the square
& a short rail I throw them on the table saw or compound miter.
Hawaii?.....6 more inches of snow today in Vermont.
Mark