This thread was originally posted on SMC by Paul Greathouse. It is here with his permission.
This may not look like an EZ post yet but give me a little time. This is the Norm Workshop Hutch that I am building for my shop. I will be using mostly EZ stuff to build it. Typical panel breakdown and some solid stock cutting and routing. There will be several posts to follow as I am a pretty good way into the project. I will be putting 5 pics or less in each post. This first post is just to show what I am building.
Here's the blank slate/wall where it will be built. The wall is 1x12 pine boards that I had bandsaw milled on my property. Mainly from hurricane damaged trees that my dad and oldest son retrieved for me. I used the EZ to straight-line the edges then cut grooves on both sides of the board and used a 1/4" plywood spline to join them. They are nailed through the spline much the same way that you would install tongue and groove.
This is the NYW plan for the workshop hutch.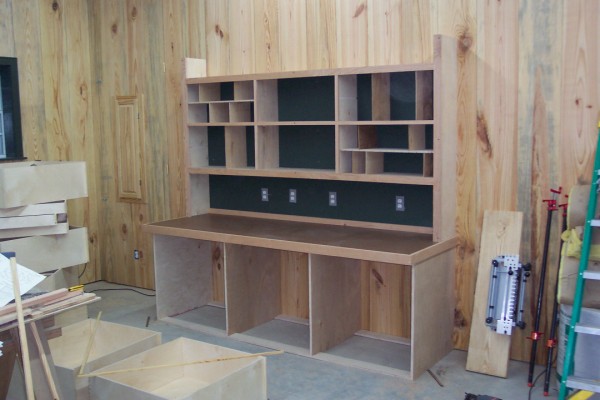 This is what I have assembled so far. The drawers are stacked up over to the left waiting on some full extension drawer slides. In the next posts I will show some setups that I used to cut and route the parts for the hutch. Unfortunately alot of the pictures that I thought I took didn't come out. The flash on my digital camera was flashing but it wasn't acutally taking pictures bucause the battery was low. I lost some really good shots. I was so busy taking pictures that I didn't look at the view window or I would have realized that the pictures were not being taken???
Cabinetmaker
This is some really basic stuff but the new guys may enjoy it.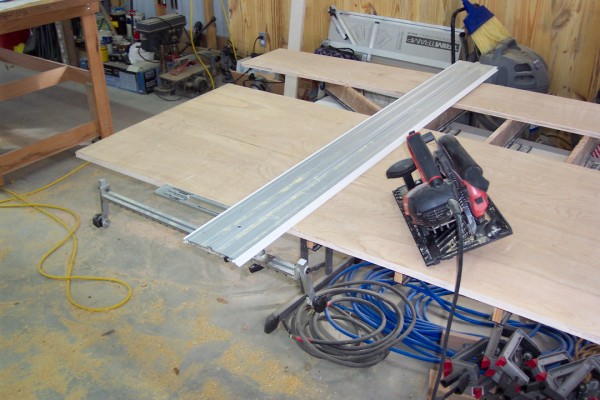 Some very basic shots of the cabinetmaker being used to break down some 3/4" birch. In these shots the repeater isn't being used, just the square.
Here's the smart clamping system/18" repeaters being used for some 8' rips.
Not sure how well you will be able to see it but there is no splintering in the birch ply.
After owning the SRK for about a year I am finally getting to use it for some real work. This is a setup where I used the SRK to rout rabbets on the cabinet panels. I was pleased that the SRK was very accurate even when fully extended.
(One of the pictures that was suppose to be here was missing from SMC - Dik)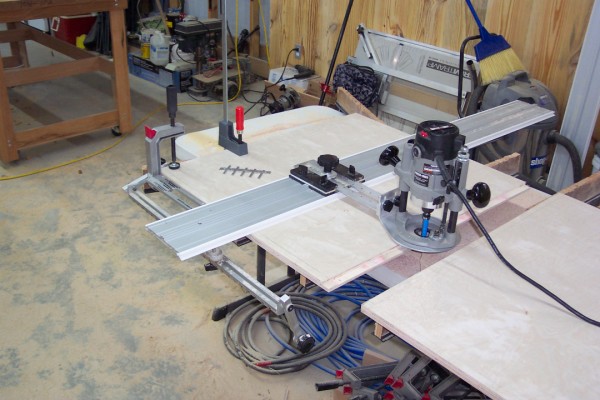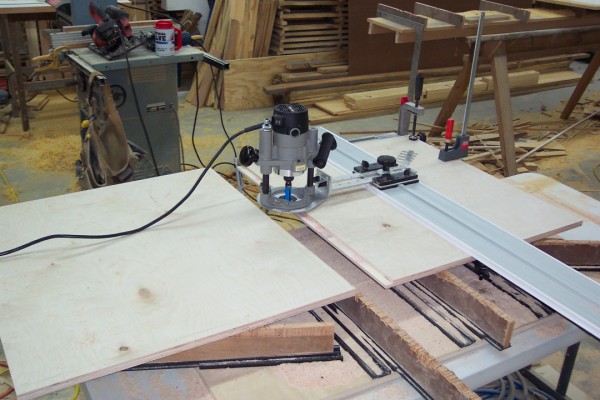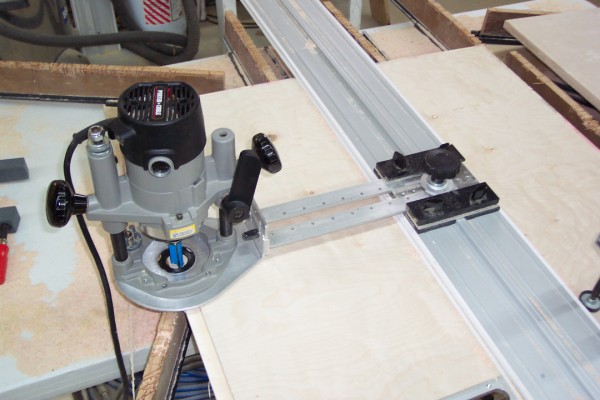 The next post will show some interesting pics of how I used my repeater, a smart clamp and a non EZ clamp to attach the 64" rail and cabinetmaker for SRK use.
(Sorry, but the two pictures that were suppose to be here were no longer available on SMC. - Dik)


The Non EZ clamp stops the cabinetmaker from moving left and the repeater portion of the cabinetmaker stop the cabinetmaker from moving to the right. There is a smart clamp being used on the other end of the rail but it is not shown. The repeater combined with Non EZ clamp hold the rail surprising solid. What do you think Dino, I haven't seen anyone use this setup yet.
This is several shots of the same setup from different directions that I used to make the half laps for the countertop subframe.
(One of the pictures that was suppose to be here was missing from SMC - Dik)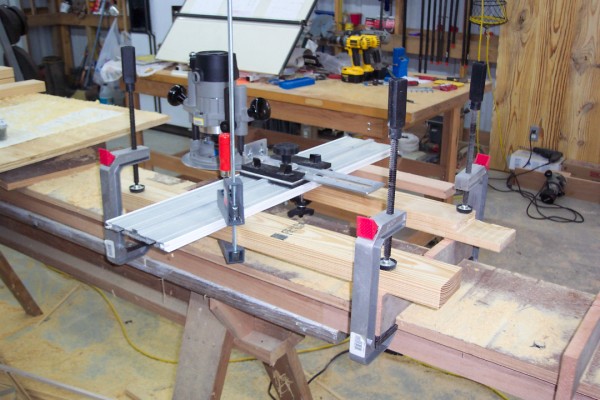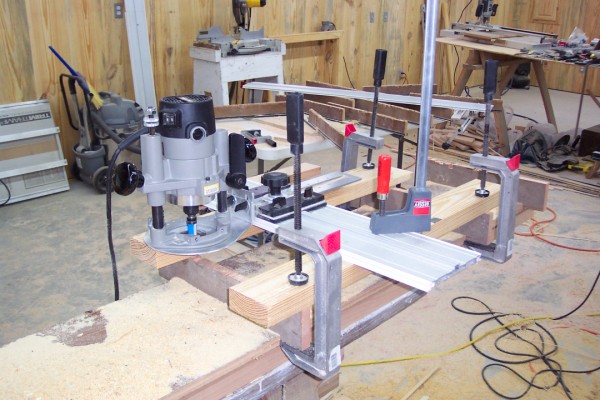 This my younger son, Nick screwing the halflap frame togeather.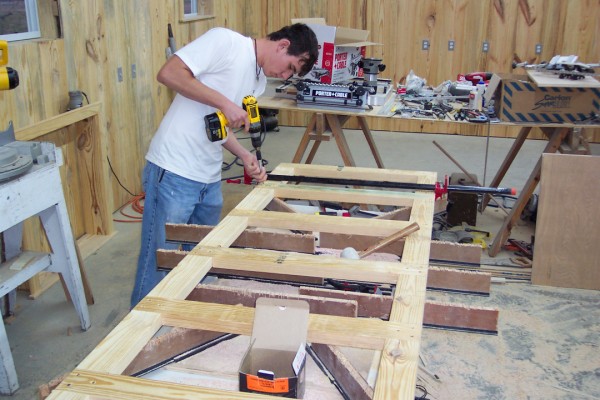 The next post will show some closeups of the halflaps.
Here's the closeups of the previous post.
(Four pictures that were suppose to be here were missing from SMC - Dik)
Bruce Benjamin Posted:
Way to go Paul! It looks like you're giving you EZ stuff a real workout and having fun while you're at it. Unfortunately, a couple of your posts didn't show the pictures. At least they didn't show up when I looked at them. but the ones that did show were cool! It looks like you have a lot of space to work with too. Keep it up!
Bruce
David Davies Posted:
So much space so little tools
Allen Bookout Posted:
Very good thread Paul! I am seeing all of the pictures but unable to see the attachments. When I click on the attachments in post 4 and 6 here is what I get. "Invalid Attachment specified. If you followed a valid link, please notify the
administrator
"
This is good stuff for a new guy like me.
Paul Greathouse Replied:
I don't know why it loaded some of the pictures as attachements. I was able to see them, when I clicked on them. I will try to reload them tomorrow. I just got through setting up a new Dell computer and then getting my email setup with my internet provider. My minds pretty burnt out right now, I spent over an hour on the phone with a woman that had a very thick India or Pakistan accent.
Adam Stone Posted:
Paul,
I've been enjoying your pictoral. I've also learned a bit from some of your clamping ideas which may be useful to us. Most important, even though my children are younger, I enjoy when they spend time with me in the shop handing me a hammer or something. I'm sure you enjoy the time you spend with yours. Thanks for taking the time to share your experience.
Adam
Brad Stoppenhagen Posted:
I have been looking to buy this thing, but I am utterly confused on this product. Your write-up and pictures are probably the clearest explanation of this product I have seen.
Question though, what is the advantage of using the router attachment (SRK) for the rabbits and half laps over just using the router with the guide (as a straight edge) alone?
Randal Stevenson Replied:
On the SRK, you extend the SRK to have parallel rabbit's dado's etc. Pre SRK, if you had a board you had a high spot on (not cut straight across, for example, due to a not long enough clamp), your dado's could be not truely parallel.
That said, with the SRK, it's easier (with the additional stops) to do both stopped dado's/rabbits and make wide dado's, rabbits. Example, if your making a 2" dado, for a half lap joint, you put the stops on and extend your SRK out and work back (or in and out). With just a straight edge (ez or others), you make a pass, undo the guide and move it over, make another pass, etc.
Paul Greathouse Replied:


"I have been looking to buy this thing, but I am utterly confused on this product. Your write-up and pictures are probably the clearest explanation of this product I have seen."
Go to ezsmarttools.com and check out the resources area, I think the website will explain things much better than I can.
I like the control that I get with the SRK. There is very little possibility for error if it is setup correctly. In other words, you cannot slip and have the router stray away from the straight edge and ruin the rout. And as Randall mentioned it is also great for parallel work.
Dino Makropoulos Posted:
Paul.
Nice to see the new generation of woodworkes starting with good teachers like you.
Before ez we had to master the "Pushing of the wood" on single task tools.
Your post is a great example of thinking smart and three dimensional.
Good job Paul.