This thread was originally posted on SMC by . It is here with his permission.
Now that I have my PBB legs done, on to the next thing on my agenda.
EZ, meet EZEE, from NJ also.
I bought an ezee-feed plywood loader from ezee-feed manufacturing a couple months before I discovered EZ(smart) gear. I was going to mount it in front of my mongrel bosch4000 TS for processing sheets. I never got that far. One issue that came up with it was that infeeding is the easy part - it's actually more of a mess handling the seperate pieces coming out the other end...
Anyway, since I have it, I need to try and use it, so here goes. Mounting it to my PBB was too EZ. One piece of 2"x3" aluminum angle, two 3" connector pcs, and two knobs, done. It can slide anywhere along the long side, making a hammerhead like in the pics or an "L" at either end. I could also mount it to the short side, but not sure yet if I would ever need to..
I haven't mounted it yet, but it comes with a metal roller that you side-mount and that facilitates loading the sheet up on there.
Will it work? Who knows. I could see mounting a piece of SME to the far end to accomodate a bridge, with an extension at the other end on the PBB, I would have 8+ ft for ripping, quick to set up. Cross cuts are a no-brainer.
Plus it fits my requiriement as always of being portable and storeable.
there's video of it in use on a TS at
www.ezee-feed.com
, by Lee Jesberger the inventor. I'm not affiliated except having bought this loader from him.
thanks,
-Jim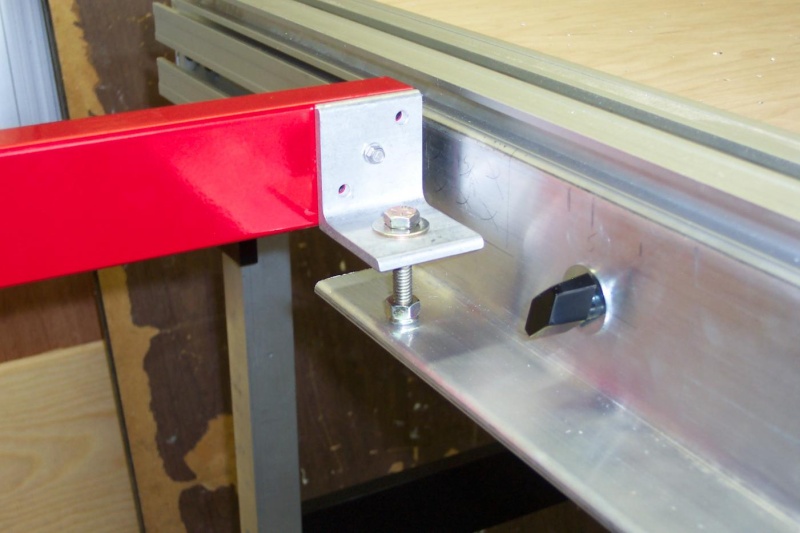 Don Bergren Posted:
This is similar to an idea I've been tossing around in my head. I envision the same type of setup you have, but with one twist. I would like to design something that would allow the rollers to drop below the surface, and be raised when needed.
My theory is that dropping them down and out of the way would make loading of plywood easier by preventing it from sliding around during the loading process. Once the plywood is on the loader bed, pull a lever to raise the rollers and the plywood can be easily be maneuvered and positioned under the Bridge for cutting. Once in position the rollers are again dropped, making the work piece stay in place with no danger of moving while being cut.
All of it would have to be quick and easy to remove, plus I have some other things I'd add as well. But that's the basics of what I envision.
I like your idea a lot. I'd be interested in hearing how this works out for you once it's fine tuned and in use.
Burt Wadell Posted:
Jim,
This is pretty close to the one that DIno did a demo on a video. Dino used a hinged lift to put the board on the loader. Why don't you see if you can find that video and take a look at it. I think you can add a lift to yours to make it even better.
Burt
Jim Mumford Replied:
Don -
These are excellent points, and we have concerns in common. I had at times thought about how one might do just what you're describing, in terms of dropping the rollers when not needed. I haven't as of yet envisioned anything that wasn't messy or complex to my personal taste, so I decided to spend some time with this setup and see what really happens. I have a couple theories.
I can set the height of the loader such that it is about 1/32" or less above the pbb top. I put a ripped-in-half sheet on there today just to see how it felt, kind of nudged it around. What I noticed is as long as most of it is riding on the transfer balls of the loader, it's effortless like air-hockey, which you might want. Then, interestingly, as it slides forward and more material is onto the pbb, where the bridge would be, there is a natural flex to sheet goods anyway and it starts to settle down onto the table, creating a bit of friction. Although I haven't set it up yet, I am imagining that the bridge may be good enough to hold it still while cutting if this flex combined with tuning the loader height until there is a sweet spot.
Another tweak I will try is slightly raising the far end of the loader in relation to the end at the PBB, which would have the effect of slightly angling the plywood to contact the table top, increasing the contribution made by friction contact as it progresses onto the pbb
end, but again looking for the sweet spot where it could still be easily nudged around on the table without knocking the PBB around too much AND, and where the slight angle up won't add a teensy bevel to the cut.
A caveat is that everything has to be level, level, and level. That's much of the motivation behind the adjustable leg I did made. I tried a repeater cut once and was on an incline not paying enough attention and the cutoff piece started closing the gap behind the saw and I had a mess and a torn EAC from that one ( but no injury
, the saw just stalled out!). So, I'm eventually going to adapt my adjustable legs on the PBB to the rear of the ezee-feed so that I can have this rig outside on my horribly out of level stone driveway and still work with confidence.
thanks,
-Jim
Burt -
yeah I saw that lift when I was first getting aquainted with EZ. It's easier to load in many ways. But there is a huge headroom requirment that I don't wan't to be constrained by, would be nervous letting anyone else do near me, and that my shop ceiling at 7' 8" can't satisfy. And personally I'm still stubborn enough to keep traipsing around with sheets of plywood twisted-arm style. I can still duck-walk carrying a sheet to get through a low door if I have to. Not forever though...
As I'm typing this I'm thinking Dik already solved this, I seem to remember he drew out a cart once that swung the board up not end-for-end but side-for-side instead onto his table...
hmmm.....
thanks,
-Jim
Burt Wadell Replied:
Jim,
There are always personal considerations in making anything like this. You're apparently young and strong. I'm getting older, have had a couple major surgeries that limit my abilities. Don is an inspiration to all of us. He manages to do woodworking from a wheel chair.
That is one of the great things about EZ - We can all make it do what we want it to!!!
Burt
Joseph N. Meyers Posted:
About a year ago, I posted my version of a lift a follows:
http://eurekazone.aforumfree.com/eurekazone-tools-f1/joe-meyers-yet-another-loader-design-t203.htm
It worked for me and maybe will help other EZ Users!
Regards, Joe
Jim Mumford Replied:
Burt-
Don has all my respect. For me, the far side of the hill is in view, but that's why there is vitamin C and anti-inflam's!
I must confess a sheet up on end feels like a dangerous thing if it's outside on a gusty day....
-Jim
Joe -
I really like how simple that is. I oversolve then struggle with what to leave out. Nice. I wonder if there is a way to adapt something like that to mine...I'd have to slide it to the edge, load, then slide it back. But the mounting knobs would be covered then.....I'll have to think on it some more.
With the loader I have, which was lying around my shop unused, I was actually more excited in the beginning to use it as a long support that takes about 30 seconds set up or put away. The loader part is actually less important to me, but darn nice to have in the bargain. If I tried to sell it I'd take a huge loss, so I'm going to see what it will do..
thanks,
-Jim
Don,
indidentally, I didn't mention that I deliberately mounted the L bracket for the loader with an extra inch of depth possible...that leaves open the possibility of dropping the whole loader down 3/4" to accomodate a plywood top of some kind over it with cutouts for the rollers, making it more like a table, without adding a lot of weight. I would have to shim the rollers upward then with a 3/4" spacers to compensate. I was thinking I would just use an auxilliary top so I could cross-cut long narrow pieces supported by the loader, which is definitely a weakness of it as a material support, but since it slides anywhere along the edge, I would just work around the rollers.
But it just occurred to me that if you can do that, it can't be too much of a stretch to make the top rise above the rollers somehow.
Then I thought what about a mechanism that operates similar to the bridge applied at each end of such a top? With a b-300 kind of lever that operates from underneath...Needs to only rise about 1/16" to 1/8" to clear the rollers. It would have to lock upward instead of downward. The cutouts for the rollers would need to be lengthened just slightly
if at all, or just made with a larger hole saw...
Although if it were a bridge mechanism, then it would shift the material slightly....
hmm..
-Jim
Sam -
I agree, moving the table top is a better way to go and would be more straightforward to build.
-Jim
Mike Goetzke Posted:
Jim - with a lift that looks like it will work well. Due to space limitations in my garage I installed two HeavyLift cable lifts. The capacity is 250#. I use one accessable with the garage door open and just slide the sheet goods from our Suburban onto the 4'x4' rack. The second one fits above the garage door with my PBB on it. I lower it onto saw horses as needed and just slide the sheet goods from the storage lift to my PBB - no more lifting heavy 4x8 panels: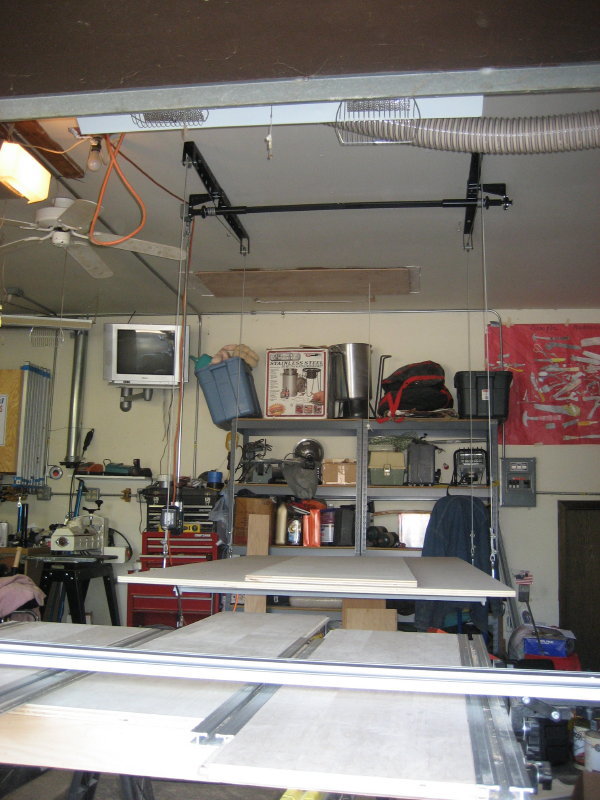 Dino Makropoulos Posted:
Hi Guys.
The ez forum is on fire with smart ideas.
I think this is the best woodworking forum by far.
Good job Jim.
we cut 4x8s 3/4" and 1" thick UHMW and HDPE plastics. Very heavy.
Easily 2-3 times the weight of a 4x8 plywood panel.
The very first thing is to cut the pieces in half.(full cross cut to length)
If we use the repeaters, the weight is not a problem.
The panel stays in one place.
For the PBB we're working on a better way to push the panels while keeping the panels against the squaring stops.
The infeed table can be made with strips of UHMW( inside the SME's)
By putting the SME's ( on the infeed table) on a slight angle, the materials are forced against the squaring stops.
Easy to move and always against the fence.
Same can be done with wheels on an angle.
Now that you have the eez loader,
I'm very sure that you can make it to work.
Anything made in NJ works good.
At the ez poll the ez loader is doing OK.
If your idea works good, one less product that we have to worry.
Keep us posted and good luck.
Tom Wizer Posted:
Interesting concept. But it's not really a loader is it? It's an infeed roller/table. Like Dino, I suffer near disabling spinal problems and I need to find something which can get a sheet from vertical to horizontal without any back strain. I watched the video on the eezee loader website and the way he flips the panel down on the table would put my in a hospital bed (serious). At the moment, If I don't have help, I have to cut sheets on the floor, which is better for my back than risking man handling a full sheet. The best soluton to this is Dino/Joseph's solution. I am planning an assembly table based on a PBB and I think I will build this system into it. Head height is an issue, but I tend to cut down sheets outside. The other option is an electric hoist, which I am seriously considering at the moment.
Watch you backs guys, it's a horribly depressing thing to be taking morphine daily and still in pain 24/7.
Dino Makropoulos Replied:
Hi Tom,
I watched the video.
It helps with loading but not a loader for all of us.
If you use a tablesaw, the eez looks good.
I like the simplicity and storability of the eez.
Good product for a shop with few stationary tools.
For us with bad backs and necks, the ez self loader is a must.
...and one more ez goodie...a surprise.