This thread was originally posted on SMC by Ed Brady. It is here with his permission.
I use my PBB as an assembly table and frequently want to clamp items to the flat surface. I use Smart Clamps a lot, but made this clamp to provide a larger depth for holding projects. You can see how it works with the scraps I clamped. The other shot shows the construction. I removed the end of a QuickClamp and then attached a piece of extrusion using two 3/32 tension pins. I may make one or two more since it seems to work well for me.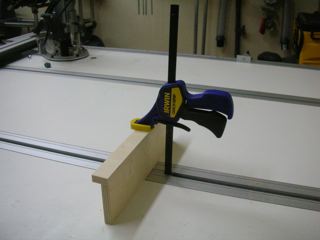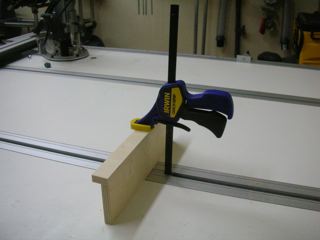 Jeff Caskie Posted:
Nice idea. Did you mount the extrusion to the side of the clamp bar, or did you cut a slot in the extrusion?
Dik Harrison Posted:
I'll definitely have to make some of those...
Jason Perrott Posted:
Nice solution Ed! I have been thinking on this for a bit now, but my solutions have not been that simple... thanks for the pics
Jason
ps: I grew up in the springs and sure miss breakfast at la baguette!
Tom Wizer Posted:
That's fantastic! Do EZ sell that part separately? Or do you have to adapt the clamps??
Ed Brady Replied:
EZ sells the extrusion, so George can fix you up. Not clear from the pics, but I did cut a slot to fit the end of the quickclamp. The tension pins go all the way through.
Glad this idea was useful to you.
Ed
Mike Goetzke Posted:
Great idea Ed!
I second it, give us a close-up of the connector attachment.
(Plus, your table top looks way to nice
)
Mike
Ed Brady Replied:
Mike,
Here are a couple more pics that may help.
Ed
Matthew Fiori Posted:
what did you cut the extrusion with?


I have been using a hacksaw to cut up the connector to pieces. That looks like it's a bit difficult to do with a hacksaw. Do you have a metal cutting saw? Or is it a matter of patience?
Mike Goetzke Replied:
Thanks for the pics.
Mike
Burt Wadell Posted:
Ed,
Great idea!!!!!!!! Simplicity wins again!!!!!!!!!!
Burt
Bryan Parlor Replied:
I use the saw and guide rail to cut connectors.
Bryan
Ed Brady Replied:
I made all the cuts on a bandsaw which easily handles the aluminum.
Dan Regan Posted:
Oh yeah, I am in total agreement with Dik, nice job Ed! So simple!
Matthew Fiori Replied:
Thanks Ed, are you interested in doing a production run of the connectors? Here's an opportunity. Woodpeckers usually offers a good volume discount they might be willing to do something even better on a close out item.
Woodpeckers is offering these
Gross Stabil bench clamps for $16 with free shipping in the event that anyone who does not already have those Irwin quick clamps wants to create something similar at a pretty reasonable cost.
Here's the link to the woodpecker site.
http://www.woodpeck.com/gsmisc.html
Bruce Benjamin Replied:
The problem I see with using these as Ed did with the extrusion attached to the bottom is that you won't be able to move the clamp up and down anymore. It appears that the Gross Stabil clamps are designed to go through the table. That won't work if you have an extrusion attached to the bottom.
What I would do instead is to just use a clamp from Harbor Freight either like this one:
http://www.harborfreight.com/cpi/cta...emnumber=34387
or like this one:
http://www.harborfreight.com/cpi/cta...emnumber=96210
What you would do is take off the fixed end and then you have the sliding end with the screw handle on it. Sort of the opposite of the Gross Stabil clamps. I actually prefer the HF clamps that don't have the ratchet plates on them that just grip with friction but I didn't see those on their website. I have a bunch of them and they've always worked perfectly for me. I also have some like the first one pictured and they work well too but I don't find the ratchet plates to be as convenient. Either way, for only $2 and $3 plus the price of a short piece of connector extrusion you can't go wrong.
Bruce
Ed Brady Replied:
I agree. Those HF units would work and with less investment. I think I paid $14 for the Irwin clamp -- but I do like the smooth action and one hand operation. BTW, my old clamps are all made in the USA. The new one is from China.
Mike Goetzke Replied:
Ed, I personally like yhe Quick-Grip clamps better. I have a few of these from HF and Irwin - the HF's just don't grip as well.
Mike
Louis Rucci Posted:
I have plenty of Picture #1. Comes in handy for a cheap clamp and should work well.
Joseph N. Myers Posted:
Ed,
Great idea! Maybe Dino will/can start offering pre-cut connectors with the "slot" already cut in them for those that don't have the connectors to cut up and/or cut the slots in them!
Regards, Joe
Dik Harrison Posted:
Finally got around to it...
I really liked your idea. I like speed and one handed aspect of the Bessey KliKlamps, so when I found a deal on them, I ordered some more. I finally got around to modifying them for use with EZ, using your idea. So far I've only made two, but might make more if I really like them as much as I think I will.
Rather than cut a slot in the end, I cut one with the drill press, leaving material no both ends. I don't know if I'll ever make use of the other threaded hole, but it was there and might come in handy some day.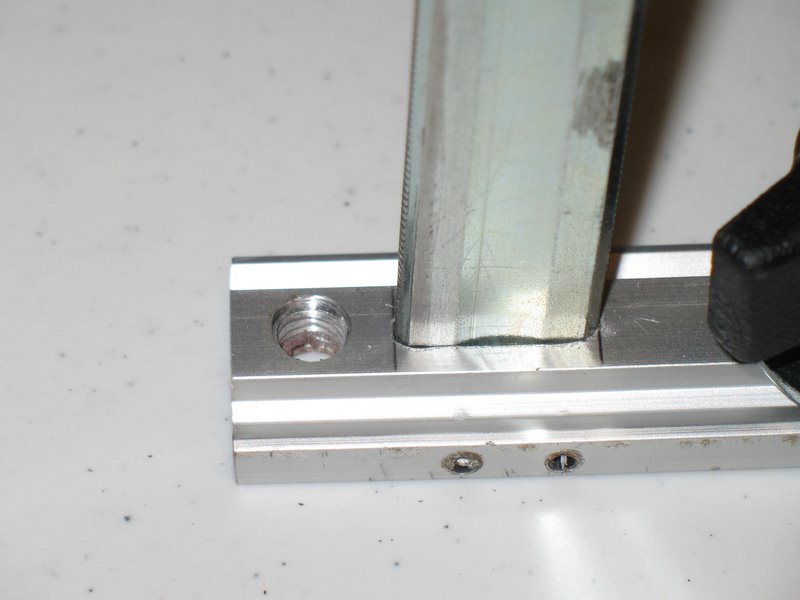 I used some old connector pieces that had studs for the hold-down that were not square to the connector (I was in a hurry, back when I worked). I pinned the clamps to the connector with 1x0.125" roll pins.
This is the clamp before pressure is applied.
And this is with pressure applied. They hold firmly and can quickly and easily be clamped and released.
Ed Brady Replied:
Nice work! I'm going to look for those Bessy clamps for the next set I make. I used mine just the other day and it works well for me.
Thanks for the pics.
EDB
Jeff Relth Posted:
Price
Dik,
Since you are familiar with the Bessey Kliklamps, what is a good price for them?
Jeff
Dik Harrison Replied:
Jeff,
This is
where
I got mine, they are a little cheaper now.