This thread was originally posted on SMC by Paul Greathouse. It is here with his permission.
I've seen lots of threads in the past, where people chronicle the building of a shop but I haven't seen any about building or remodeling a house. We just rescued a little 980sqft house from town that a developer was going to have torn down. He gave it to my oldest son, all we had to do is pay the moving fee.
We moved it out to our property in the country, across the road from me and my dads houses. We will be adding onto and completely remodeling it. The parish inspector made us pour a concrete grid with the outer piers poured as part of the grid. The inner piers will be normal pyrimid shaped piers.
I have done alot of additions and remodeling in the past and I thought some of you might be interested in seeing what we do with the house. I will post some pictures of where we are with it now and update as we go along. I'll watch the views and replies and if I see there is not much interest I'll quit updating. If this should go in another area please feel free to move it.
So far I have a couple pictures of the move, some of the house sitting next to the pad that it will eventually be on and some of the grid and pier forms. We poured yesterday and wreaked the forms this morning. The mover wants us to wait 7 days before he sets it in place so that will happen next week.
The first one is the house coming down the road.
The second two were the movers very creative way of getting a whole house across a 12' culvert.
The next couple are the house sitting on the trailer.
Aurelio Alarcon posted:


Sweet move!
Paul Greathouse continued:
Here are some of the concrete footings. The flat metal you see sticking up from the piers are Simpson straps for attaching the house to the piers at the corners. There are alot of new regulations now since the hurricane Rita in 2005.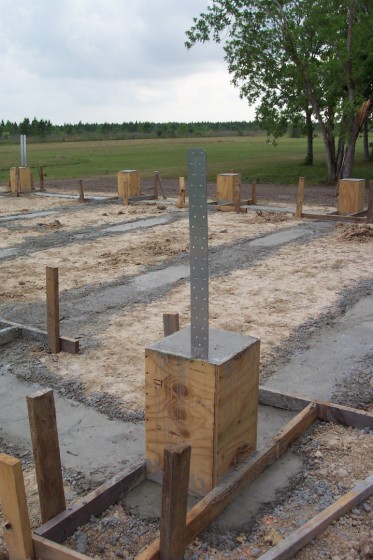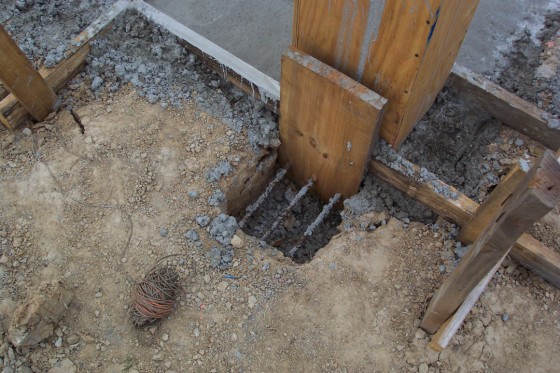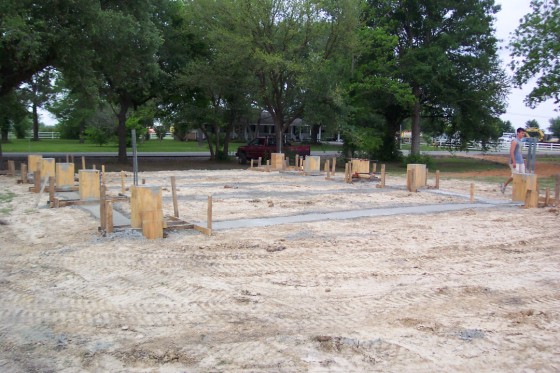 Richard Young Posted:
hey paul....is this south of town or east? just curious as i live in lake chuck myself.
Paul Greathouse Replied:


Richard
First, welcome to Sawmill Creek, I see its your first post. We are located south of town on Lincoln Road between the Gulf Hwy and Tom Hebert Road. Come by and take a look if your interested. The house came off of LaGrange street. The developer is building some town houses there.
Jim Becker Posted:
Paul, that's a fine thing you're doing, preserving that home. And from the looks of things, it's going to be "tied down" pretty good, too, once it's on the new foundation!
Richard Young Replied:
paul...thanks for the invite...i just might give you a holler someday and pass my eye over to see your project. looks like it's gonna be real interesting.
Paul Greathouse Replied:


Jim
Its well framed with Fir lumber and has 3/4" Oak tongue and groove flooring. We will be adding a 28' X 28' addition to it, which should bring it to 1760 sqft.
Irvin Cooper Posted:
Paul,
That is an awesome project. I have frequently considered what a great project a house relocate would be.
Keep us posted on the relocation of the house. This will be very interesting to follow.
Thanks.
Irv
Art Mulder Posted:
My first house was about 800 sq ft, and for a young couple that is fine, or even with 1 or 2 small kids... but we did have a full basement also. Are basements not common down in your area? That adds a lot of storage and utility space to a house that you don't have.
With the small size, I was wondering why you bothered, since my understanding is that moving can be quite pricey. However from your comments above it seems like the house is in good shape.
Please do keep updating, as I love reading about home renovations. Some before and (planned) after diagrams of the floor plan would be great if you don't mind sharing them.
best,
...art
Ken Fitzgerald Posted:
Paul.....very interesting thread! Please keep posting the progress!
Art......because of the local water table in the area, I suspect basements are pretty scarce in the are where Paul lives.
Paul Greathouse Replied:


Art,
Kens right, there are no basements down here due to the water table. You probably can't tell from the house pad pics but the pad is built up approx. 4 feet to meet the parishes requirements for elevation. Like I said earilier since the hurricane we have been hit with so many new regulations and codes. Some good, some bad. Luckily for my son, him and my dad are in the heavy construction business (trackhoes, doziers, ect) so they had the equipment to build the pad and were able to trade off a little equipment work for the fill sand with another contractor.
My house and my dads house are across the road, both are on peirs, both sitting on the virgin ground. Niether one has ever flooded. We are about 20 miles from the coast but we do have a bayou less than a mile south of our property.
Both my house and my dads house came throught the hurricane with minimal damage. Mostly missing shingles and mine had a pecan tree limb break off and poke a small hole in the roof over my living room.
Several things drew us to the house, its got real oak floors in the majority of the house, the existing floor plan plus the proposed addition will get us roughly the exact floor plan he was planning on building anyway, for me, plumbing a house on piers is much easier in the fact that if I mess up, I can go back and make changes. Not so on a slab where the plumbing is all under concrete. Last but not least we will be starting with a roof over our heads with the existing house and the addition will be rather small and quick to black in.
Monitarily the move wasn't super productive, I figured the materials to replace the existing framework would cost us about $7000. So $7000 less the moving costs we are only about $2000 and quite a bit of framing time and labor ahead. It seemed to be the best option for us since we will be doing most of the labor ourselves. The only labor we plan on hiring out at this point is the sheetrock finishing and maybe shingles because I am terrible at taping and floating and I hate doing roofing.
It will be about a week before the house is set in place but when it is I will take some more pictures of the outside and some inside "before shots" and post them.
Keith Beck Posted:
A free house! That's got to qualify for gloat of the year!
Keith
Art Mulder Replied:


I figured it was something like that on the basements. Having always had a basement, it would just be something else to get used to. I would have to come up with some alternate storage/utility space in the house, I guess.
I also hate mudding and taping drywall. That is definitely a skill that takes time, and I have mastered it.
Dave Ray Posted:
Paul, this is a great thread to follow, please keep posting as the work progresses.